Measure and Manage All Your User Acquisition Campaigns
Connect user engagement and revenue back to the source — no matter what marketing channels you're using to acquire new users.
Localytics lets you analyze and compare all of your acquisition campaigns in one place, helping you to understand where your most valuable users come from. Use this information to optimize your ad spend and focus on attracting the best users.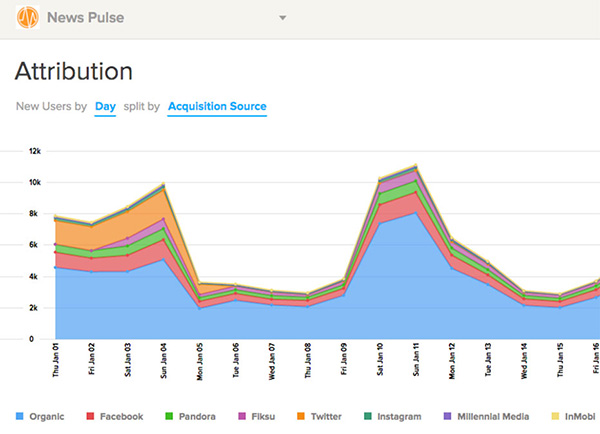 When it comes to ad networks, Localytics covers over 85% of the mobile ad market and is the only mobile analytics and marketing platform that is a certified Facebook Marketing Partner and Twitter Mobile Measurement Partner.

If you run email, web, or SMS acquisition campaigns, you can use custom redirect URLs and device fingerprinting to gain the same sorts of detailed insights you enjoy with campaigns run through ad networks or tracking vendors. You can even track things like acquisitions from iOS Google searches.

Acquire Valuable Users with Event Postbacks
Event postbacks share info about conversions in your app with your ad partners so you can ensure that your ad campaigns are driving conversions, not just installs. Localytics is the only platform to offer event postbacks combined with hyper-granular downstream analytics and marketing.
Set event postbacks for Facebook, Instagram, Twitter, Google (Adwords), Applovin, AdColony, and Liftoff.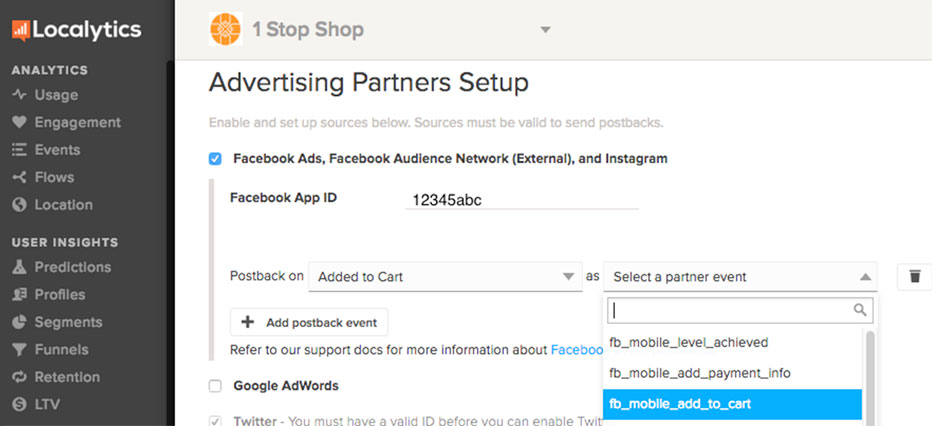 Uncover Granular Insights with Ads and Ad Sets
Drill down past the source and campaign level to see how ad sets and individual creatives are performing. Use this data to align future bidding and scheduling efforts, and optimize your ad creative strategy.
Engage Users After the Download
Users from each source can be very different and respond to messaging in different ways. Target users you acquired from a specific network or campaign with personalized push or in-app messaging campaigns to deepen their engagement with your app. Track users acquired from a specific campaign as a segment in Localytics to see how their engagement changes over time.
Learn More: