Unite Data from Across Channels
Your customers use multiple devices and interact with your brand outside your apps. Profiles helps you combine user behavior and user attributes across devices and channels so that you can execute smarter mobile marketing campaigns.
For example, if you identify users in your CRM who are "foodies" from usage patterns on your desktop app, you can now send a targeted message to their mobile device.
4 Best Practices for Creating Cross-Channel Campaigns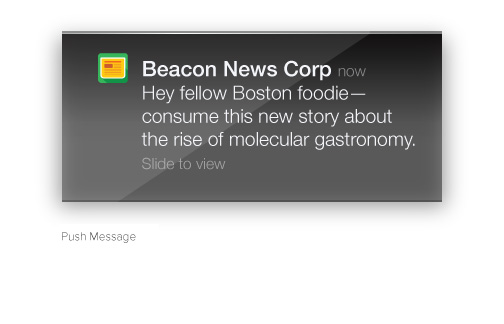 Drive Engagement and Conversion with Personalized Messages
Compose personalized messages based on user profile information that Localytics automatically populates for you (Auto-Profiles), or based on profile information you've sent to Localytics (Custom Profiles). Mix and match your CRM profile data to come up with precise target audiences and personalized messages that help drive engagement or conversion in your mobile app.
How to Use Personalization to Create a Great App Experience
Build Retention by Rewarding Your Most Loyal Users
Send special offers to your power users or loyalty card holders. For example, send loyal users (customers who have logged in at least 5 times in the last 30 days) a reminder that they have store credit in your app.
"We're extremely excited about Localytics Profiles because it makes Localytics an even more powerful tool in our arsenal. Now we can combine our customer insight data with in-app usage and events. This enables us to do deeper analysis for product planning, create more targeted marketing campaigns that resonate with our users, and drive more revenue for our business."

Russell Cook
Founder & CEO, AllTrails
Watch Profiles in Action
Learn More: