Users always have their devices with them.
Places lets you take advantage of this by sending your mobile app users content that's personalized to their current location. With Places, you can send push notifications to users the instant they enter or exit a specific location, even if they don't have your app open. Additionally, you can analyze data on physical locations, giving you access to insights and geotargeting capabilities that have never before been available.
Here Are Some Ways You Can Use Places
Send location-based push messages to specific audiences the instant they approach or leave a geofence.
Build highly accurate user profiles based on where a user has been.
Geotarget your push, in-app, or inbox campaigns to reach app users who have been at a specific location in the past.
Analyze data and metrics on how many users go past a certain location.
At the heart of Places are geofences. A geofence is a virtual fence that's placed around a real-world location. They can range in size from very small (encircling a store) to very large (covering an entire city). Most often, geofences are placed around specific buildings or other points of interest.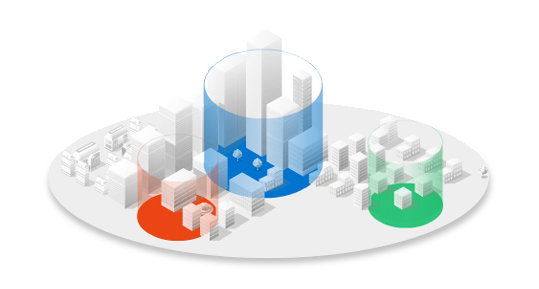 Places can support up to 10,000 geofences and you can quickly batch-upload locations. Once you've added at least one geofence to Places, you can start viewing analytics and building location-based mobile marketing campaigns.
Building a Location-Based Campaign with Places is Easy
Connector.

Choose an Audience

You can have your campaign get sent to everyone who enters/exits a location or you can limit the campaign to specific groups of app users for truly personalized mobile engagement.

Connector.

Build Your Message

Use A/B/n testing to see how different messages perform.

Connector.

Choose Geofences

Choose which geofences you want to include in your campaign. Labels make it easy to group together multiple locations. Using labels, you can add hundreds of geofences to a campaign with a single click.

Connector.

Schedule Campaign

Manually control your location-based marketing campaign or set it to automatically start and stop at a specific date and time.

Connector.

Activate Campaign

Activate your campaign and you're done!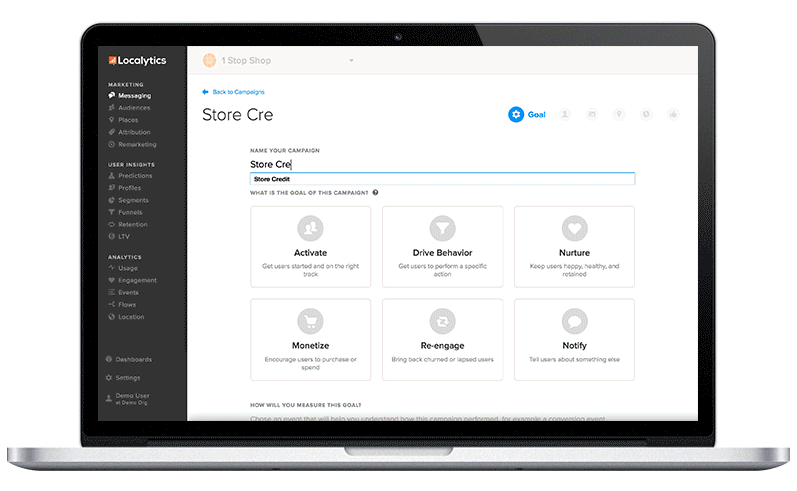 Fully integrated part of the Localytics platform. No additional SDKs, dashboards, or vendors required
Uses a combination of GPS, WiFi and cell towers for the most accurate location possible
Create up to 10,000 geofences
Geofences work even if a user doesn't have your application open
Organize your geofences using labels.With labels, you can add hundreds of related geofences to a campaign with one click
Negligible impact on battery life
Send real-time location-based messages to users the instant they enter or exit a geofence
Include as many geofences as you want in each campaign
Messages are stored in user's device, ensuring instant delivery even if they don't have a cell signal
Build audiences based on which geofences a user has entered/exited in the past
Distinct messaging and analytics capabilities: capture geofencing analytics without sending a location-based message and vice versa
Collect data on your geofences (foot traffic, dwell time, and more)
Add up to ten custom attributes to your geofences. Use these for highly detailed analysis
Ready to learn more?
We're just scratching the surface of what Places can do for you. To see more, schedule a demo with one of our knowledgeable associates.