Send more effective push notifications with Localytics
Push notifications are the bread and butter of many app marketing strategies - and with good reason - they can be incredibly effective if used correctly. However, it's also very easy to misuse them and annoy users with irrelevant, unhelpful messages.
If you want to use push the right way, you need Localytics. Our industry-leading targeting and True Impact™ campaign reports make it easy for you to effectively engage mobile users without alienating them.
Here are some of the ways you can use Push Notifications:
What goes into a Localytics Push Notification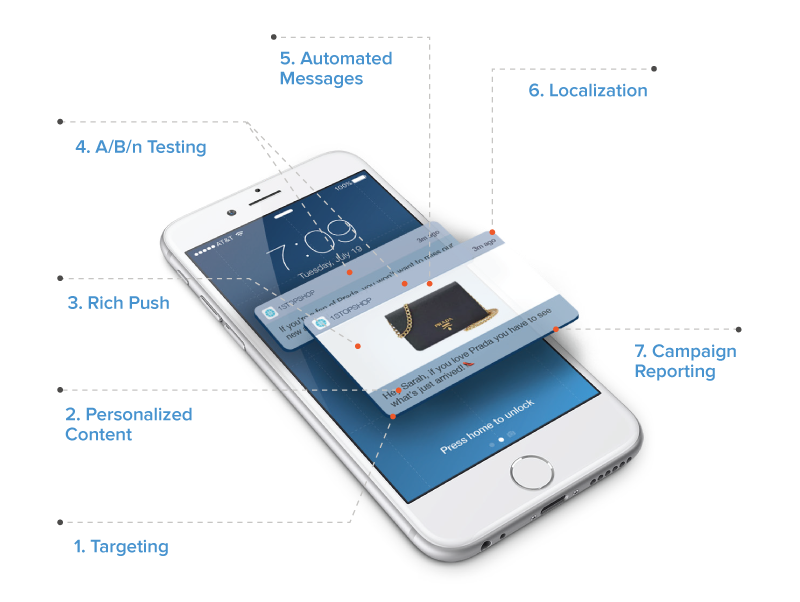 Targeting

Target users based on a combination of profile data (who they are) and event data (what they've done inside your app). Localytics' targeting engine has been proven to improve click rates by more than 3x.

Personalized Content

Personalized content is one part of creating an individualized app experience. Dynamically personalize your push notifications for each and every user, using information such as a user's name, their favorite category, and more. You can even personalize things like deep links and rich push content.

Rich Push

You can include images, GIFs, videos, or audio files in your push notifications for more compelling messages that deliver results.

A/B/n Testing

Test up to 10 versions of every campaign and find the message that resonates the best with your users. Control groups let you see the true performance of your messages.

Automated Messages

Because Localytics tracks incredibly detailed information on what a user does inside your app, it's easy to automatically send a message after a user performs a specific action. You can even use Localytics Places to send a push notification the instant a user enters or exits a geofence.

Localization

Because apps don't have borders, Localytics lets you send a push notification in multiple languages. You can also schedule messages to appear at a specific time in each user's time zone.

Campaign Reporting

Traditional campaign metrics like sends, opens, and conversions don't give you the full picture of how your campaigns are performing. That's why we created our exclusive True Impact™ reports, which show you exactly what users do after they receive a message.
True Impact™
True Impact™ is a unique reporting tool that allows you to see exactly how users respond to your push campaigns - everything from the revenue generated to the uninstall rate. With True Impact™, you can optimize your campaigns based on which messages are driving business results.
Most mobile marketing platforms use metrics like sends, opens, and conversions to show you the success of your push campaigns. However, relying on these metrics alone can trick you into sending messages that cause long-term damage to your app and your marketing strategy. That's because a push campaign can do far more than just generate conversions. It can also impact a wide array of important metrics like session length, retention, and revenue. It can even drive a user to disable push notifications or uninstall your app.
By showing you the complete picture of what users do after they receive a message, True Impact™ allows you to make more informed decisions about your messaging strategy. Rather than relying solely on conversions, you can instead optimize your campaigns based on which messages drive results without causing any negative side effects.
Push API
Our Push API lets you create the most individualized experience possible, by allowing other systems to automatically send push notifications through Localytics. For example, an order management system can send a push to a user telling them that their order has shipped or a news app can build a system that keeps users updated on breaking news.
See Localytics in Action
Schedule an online demo with one of our knowledgable associates to see how the product can help you grow your business.